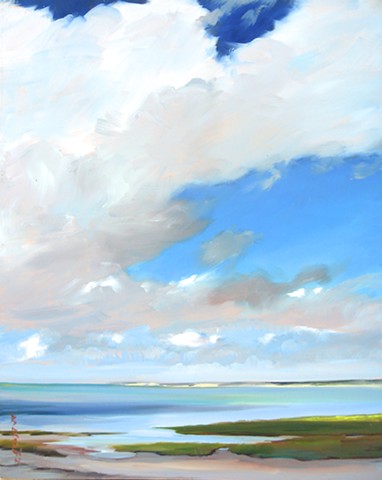 How do we injure and punish one another, by law? We deprive each other of access to the beauty and bounty of nature. How do we injure one another extrajudicially? By failing to see each other as beautiful, and therefore worthy of respect, honor, and protection. In this failure, we become ourselves less worthy, less just, less beautiful.
Beauty repairs the world by helping us to see. It trains our attention and forces us to look outside ourselves, the first requirement of empathy, and therefore of justice.
Beauty impels us to create, endlessly, until eventually there will be "enough." But there is already enough, if we can see it. This is why I put myself out there, exposed to the elements. Realism, naturalism, places us in the embrace of nature, in its reassurances about nature's greatness and our own smallness. It urges me toward unselfishness and humility, toward justice.


To view the paintings, photographs and collages, visit the Gallery.
Artist Bio
Educated in fine arts at Yale, Jo Brown studied sculpture with Erwin Hauer, painting with the late Bernard Chaet, the teacher of Richard Serra and Chuck Close, among many others. Her advisor was the celebrated painter William Bailey, an heir to Giorgio Morandi. At Yale, Jo Brown worked extensively in photography, and appreciated the work of photographers Paul Strand, Edward Weston, and Walker Evans, and painters Mark Rothko, Ad Reinhardt, John Singer Sargent, Thomas Eakins, and Edward Hopper. As a landscape painter she is self-taught, and counts Fitz Hugh Lane, John Frederick Kensett, Mary Cassatt, Edouard Vuillard, Giorgio Morandi, Mark Rothko, and the Dutch and Flemish seascape painters as major influences. She lives in her favorite place, Baltimore.
To view the paintings, click here: Gallery
To support Jo Brown's nomination for the Baker Artist Portfolio click here.
To send Jo Brown an e-mail, click here.